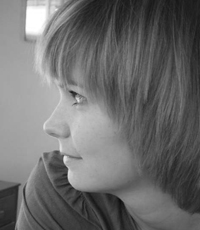 Constanze Schellow (1976) is based in Basle and Berlin. After ten years of ballet training she decided to study Theatre Studies, Philosophy and German Language and Literature in Berlin (Freie Universität) instead of becoming a dancer. She obtained her M.A. in 2002 with a thesis on the reception of the philosophy of Nietzsche in German texts about dance after 1900. In 2009 she received a fellowship of the German Academic Exchange Service for completing the interdisciplinary Postmaster in Performing Arts (apt/a.Pass) at Posthogeschool voor Podiumkunsten (Antwerp). Since May 2010 Constanze is a fellow of the Suisse National Science Foundation with her PhD-project MaRking Difference. On the Productivity of Concepts of Negation ,Negativity and Absence in Contemporary Dance Discourse which is situated in between Theatre Studies and Philosophy. It is part of the ProDoc Aesthetics of Intermedialigy. Play- Ritual – Performance (Universities of Basle and Berne). As a part of her research on mutual movements of reflexion between choreography and theory, Constanze has created the performative series not not a lecture in which she collaborated with the choreographers Sara Manente (not not a lecture #1. two commentaries, Tanzquartier Vienna, December 2010) and Antonia Baehr (not not a lecture #2. facing for faces, Mousonturm Frankfurt, May 2011).
From 2002-2009 Constanze has been as a fulltime freelance writer on dance and performance for papers, magazines, international special interest periodicals and internet platforms from (Die Welt, Zitty, Theater der Zeit, tanzjournal, Frakcija, Asia Dance Channel, CORPUS). Changing her name to "Schellow" when getting married she kept "Klementz" as a signature for her journalist writings. From 2004 to 2010 she held the position of a duty editor at Zitty Berlin magazine. Since 2006 she is part of the Belgium discourse platform on performance SARMA (personal critics page). In 2009 Constanze began to reduce her work as a critic in favour of teaching in artistic and academic university programs. She was a guest lecturer at Freie Universität Berlin, Hochschulübergreifendes Zentrum Tanz Berlin, Universität Hildesheim, Universität Bern and Hochschule für Musik und Tanz Köln. She works as dramaturge and mentor for choreographic projects. In 2011 she was the dramaturgic collaborator of Sara Manente (Antwerp) for Faire un four. In 2012 she works with Doris Uhlig (Wien) for Come Back (premiere at Steirischer Herbst Graz).
Constanze Schellow is a participant of the Winter School 2012.