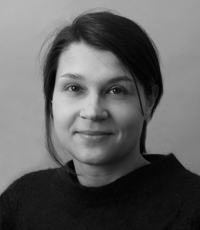 Jadwiga Kamola studied History of Art and English at the universities in Freiburg (Germany), Dublin and Berlin, where she received her M.A. in History of Art in 2010. Her scholarly interests range from the grotesque, images of illness, the relationship between paint and flesh, simulacra, aesthetics and the interface of art and medicine.
This interest culminated in her PhD project "Lam Qua's Portraits of Patients. Approaches towards a Global Negative Aesthetics", which investigates a series of Chinese tumour patients shown in the format of the classical portrait and locates them within a global continuum of medical illustrations and art.
Jadwiga Kamola is a participant of the Winter School 2012.