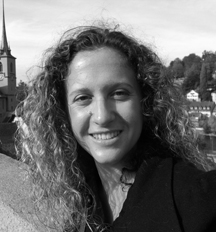 María Cáceres is currently a PhD candidate at Institute for Musicology at the Universities of Bern and Zaragoza. Her dissertation deals with the historiography of musicology in Spain. She holds graduate degrees in the Humanities (2004) and History and Science of Music (2006) from Salamanca University.
In 2005 she completed her Bachelor degree in cello at the Conservatory of Music of Zamora. She studied musicology and pedagogy of music at Sorbonne University, Paris IV (Erasmus scholarship: 2005-2006). In 2007 she received her Master's degree in Hispanic Music from Salamanca University. From 2006 to 2008, she worked as a teacher of Music and History in a secondary school. Her research is supported by the Spanish Ministry of Education. She was a visiting scholar at Cambridge University (Wolfson College) in 2011. She is member of the International Research Group "Historiography and musicology in Spain: 1800-1950 " (Project: HAR2008-05145/ARTE funded by Innovation and Science Ministry of Spain). She has been coordinator of the Annual International Colloquium of Musicology (Instituto Fernando el Católico CSIC) since 2008.
María Cáceres is a participant of the Winter School 2012.