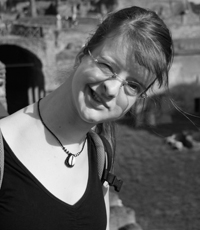 Klara Groß-Elixmann is a PhD student at the Ruhr Universität Bochum since April 2011. Her research project "Epistemological strategies in Arthur Schnitzler's medical and literary texts" focuses on different strategies to make knowledge public and to authorise it, especially in Arthur Schnitzler's works.
She was born in 1984 and finished her Magister studies of modern German literature, German language and older German literature with an M.A. in 2010, the studies of catholic theology with the diploma degree in 2011, both at the University of Bonn. Klara studied in Rome during the academic year 2006/2007 (Erasmus scholarship) and receives a scholarship for academic excellence by Cusanuswerk (Trust of the Catholic Church and the Federal Republic of Germany which supports talented students financially and with workshops) since 2005. Furthermore she is working as graduate assistant in the institute of church history, Faculty of Catholic Theology at the University of Bonn.
Her scholarly interests reach to many scholarly areas, from the practical turn in literary science over literary anthropology, the boundary points between theological and literary questions to ethical or historical questions.
Klara Groß-Elixmann is a participant of the Winter School 2012.