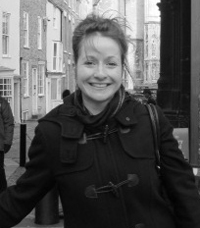 Alexandra Portmann was born in St. Gallen, Switzerland, in 1985. She studied Philosophy and Theatre Studies at the University of Bern, graduating in 2011.
She is teaching assistant and doctoral student at the Institute of Theatre Studies as well as doctoral student at the Graduate School at the Institute of Advanced Study in the Humanities and Social Sciences (IASH), both at the University of Bern. Her PhD project "The time is out of joint – The Reception of Shakespeare's Hamlet in Former Yugoslavia" is part of the project "Hamlet's Odyssee", funded by the Swiss National Science Foundation since October 2011. Her reseach project analyses the mobility of Shakespeare's Hamlet in former Yugoslavia and poses the central question, how productions and adaptations of Shakespeare's tragedy reflect the political and social changes in former Yugoslavia, concentrating on the time span from 1945 to the present.
Alexandra Portmann is a participant of the Winter School 2012.