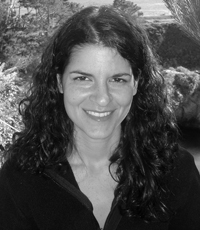 Lynn Badia is a PhD candidate in English and Comparative Literature at the University of North Carolina at Chapel Hill in the United States. She is also earning a graduate certificate in the History and Philosophy of Science, Technology & Medicine at Duke University, and a graduate certificate in Cultural Studies at UNC-Chapel Hill. She recently participated in the Vienna International Summer University at the University of Vienna; the 2011 program entitled, "The Nature of Scientific Evidence," considered scientific evidence in its historical evolution and in multi-disciplinary contexts.
She is currently writing her dissertation on early twentieth-century theories of energy, with a focus on metaphor in scientific and non-scientific discourse.  Her other research interests include literary naturalism and early scientific and documentary film.
Lynn Badia is a participant of the Winter School 2012.