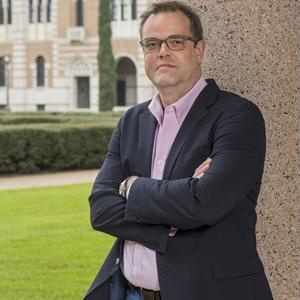 Christian J. Emden is the Frances Moody Newman Professor and professor of German intellectual history and political thought at Rice University. He is the founding director of Rice's Program in Politics, Law & Social Thought and currently serves as chair of the Department of Modern and Classical Literatures and Cultures.
Emden's current work is mainly concerned with varieties of political realism, especially as they focus on the relationship between active political citizenship and the constitutional demands of the modern state. A second line of inquiry is concerned with the emergence of normativity and the conditions of normative order. This approach links discussions in philosophical naturalism and new materialism to central issues in political theory and the history of political thought.
He is currently finishing a longer book project on philosophical nihilism in modern European political thought from the eighteenth century to the present, In a Meaningless World: Philosophical Nihilism and Political Thought, 1750-1960. A second book project, Hannah Arendt, Political Theory, and American Empire, is focused on the writings of Hannah Arendt as a public intellectual in the context of American political life during the 1950s and 1960s.
Emden is one of the chief editors of the journal Nietzsche-Studien and he is also on the editorial board of the Journal of Nietzsche Studies. Previously, he was on the editorial boards of the Zeitschrift für Kulturphilosophie and Modern Intellectual History.